OUR STORY
---
On the façade of the domain, some letters, « Dom et Alex », announce that here, simplicity and authenticity prevail.
« We can be in an attic if the kingdom is internal. »
Both winegrowers, proud of their Fief, cultivate a humility which, we can feel it, is part of their way of being and working. Chaste, they explain the numerous realized works since they took back the domain, in 2014, while explaining :
« We shape the domain so that it looks like us and allows us to work on our way.
At the same time, we keep the place in its juice, faithful to our conviction that, if the wine became an esthetical product, it is what hides itself behind the bottle and the label which matters most »
Is the history of the Fief Noir the one of two friends who dream of becoming winegrowers since there were little children?
Alexis Soulas :
Before dreaming about wine, I have first wanted to become a veterinary or a republican guard! But more seriously, I grow up in Paris, with nevertheless numerous stays in the countryside, in Touraine, in Corse, in the Lubéron. I studied agronomy before questioning me about my real capacity to spend my entire professional life behind an office and a screen. I needed something more sensory, more carnal, where the taste and the manual labour would have a place. The wine stood out as an evidence. I finally turned off in an engineering school in Bordeaux and then in a faculty of oenology. And went to work in Corsica.
Dominique Sirot :
And it is in Corsica where we first met! I hardly dare to tell how the project of becoming a winegrower land in my life. I was in faculty of History, after a preparatory school of letters in Lyon. I wake up one morning with a strong memory of my dream: I was in a hammock, at sunset, near a vineyard. It seems crazy to imagine it today and nevertheless, really, this dream was a revelation for me. Nothing predestined me either to entrepreneurship, neither for the wine. I simply welcomed this sign which symbolised my need for return to the earth. I settled down in Bordeaux, followed a formation in vine growing-oenology, then another formation in oenology. Before going to work in Corsica.
Is it during your common experience, on a 250 hectares' domain in Corse, that emerges your own project?
Dominique Sirot :
The project came with time. In Corsica, we enjoyed a big autonomy, evolving in an environment very requiring but also very rewarding, and galvanizing. The idea to settle down was almost a logical result, with a very strong desire for personal development and professional. The stake for us is to be happy to raise us every morning to make our job.
Alexis Soulas :
In Corsica, we realized that with a little of boldness and a lot of energy, it was possible to undertake.
From then, we began to rummage, then to visit, then to make concrete proposals of resumption of domains, on the continent.
How did you discover the Chesnaies' domain, in Saint Lambert du Lattay? So far from Corsica!
Dominique Sirot :
Even there, we can say that nothing was written. We visited dozens of domains before arriving in
Anjou. We made beautiful meetings, beautiful tastings and we quickly understood to what extent the region
was worth it. The terroir surprised us. Here, the Chenin represents an inestimable potential.
Alexis Soulas :
When we visit domains to be taken back, we can see of everything. It was necessary to find a domain that looks like us, in which we will be ready to put all our savings, all our energy, to settle women and children, and to build our lives. It is what happened here. We had a strong legacy and at the same time, the opportunity to develop new wines, which look like us. Our vintage the West Coast is a real example of this.
You are writing a new page of the Domain's history today, by melting again the range and by changing your name. What is your intention?
Alexis Soulas :
Our intention is to develop the domain towards something which corresponds to us even more. After the time of the handling, came the time of a stronger claiming. Le Fief Noir symbolizes all this. We have the true ambition, humble but firm, to make our white wine, the Chenin, more known. Here, it is the biggest region
of the Chenin. Anjou does not only produce syrupy; we are eager to make live something else.
Dominique Sirot :
The creation is without any doubt one of our characteristics. Alexis and I are reunited by this taste for entrepreneurship, by the desire of making grow and increase something, from our hands. We dedicate a lot of time and energy to our Fief Noir, it was natural that it looks like us.
By what is characterized the evolution of the Domain?
Dominique Sirot :
We migrated to a biological culture which seemed to us obvious. By working the earth, we quickly become aware of what we it is owed. And then, we tighten and simplify our range with new unpublished vintages.
Alexis Soulas :
Those new unpublished vintages of the Fief Noir really tell our relation to the Earth, the wine, to our winegrower's job. Their names, their gustative profiles speak about our taste for the romantic art, for the nature, for the nuance and the balance. It is wines that we wanted opened, "questioning". To make standards does not interest us. Our hobby, it is to create wines of discovery which arouses some emotion.
TERROIR AND VINES
---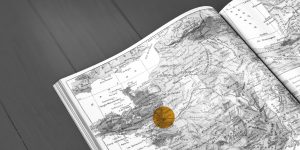 Le Fief Noir, Anjou Noir's cantor
Le Fief Noir is an Estate of 30ha in the centre of the Anjou Noir, near to Angers, in the municipality of Saint-Lambert du Lattay. The Anjou Noir is a unique wine-growing area at the extremity of the Est Armorican massif and the north-west of Anjou. Noir, or "Black", due to the stone which composed its subsoil: The Schist. Formed 30 million years ago, The Black Anjou schist offered an exceptional diversity of soil relief due to its history and its transformation through the ages. This stone is structured in a leaflet model, which constitute an ideal terroir for the vine growing. In fact, the high number of fissure in the rock allow the vine to develop its roots within. Du to this, the roots will be able to explore a vast space and drain a wide variety of minerals. We will find in the wine all the originality brings by the schist.
The Anjou Noir is also the meeting of one of the great grape variety, the Chenin, with the schist. With a unique terroir comes a unique grape variety result: the chenin take all his depth, and express its wealth and potential. We can find here the "Anjou Blanc", definition of freshness and minerality such as in the Coteaux du layon.
Le Fief Noir cultivate their grape following an organic way. Chenin, Cabernet and Grolleau grow on a wealth soil with a high diversity. To Le Fief Noir, the soil is the priority of the winegrower. Choosing the right grape variety depending of the soil composition, working on the soil to encourage the development of the vine roots through the years, removing weeds which compete with the vines or help the soil to heat up at the end of winter.
« We do a lot of manual operation to preserve the grape. The most important is the harvest. The manual harvest allows us to keep all the grape aromas and its integrity. Here is our objective: render at its best the unique taste of Anjou. »

WINES
---
" For you, to who belongs a wine? "
Dominique Sirot :
Alexis and I are very attached to the Earth, and to the values of humility it carries. The Earth teaches to you every day that precisely, nobody holds any absolute truth! We accept the uncertain, we even welcome it. It enjoys us to create, in a voluntary and active way, wines which look like us, but it also pleases us to know that once in our customers' mouth, they open to another life that does not belong to us anymore. As you taste a wine after a good or a bad news, in good company, close to the fireplace, this one will take another colour. It puts all of us in our right place.
Alexis Soulas :
We propose deep wines, which give the desire to stop, to take time, to ask themselves questions. Our vintages correspond to us in the sense where they balance our sense of the action and our taste for the contemplation. The idea is to freeze nothing. To suggest. A wine is never entirely finished. It belongs to the one who get it. This is this open field to interpretation, this co-creation, which make our job so beautiful.
Photos
---